Image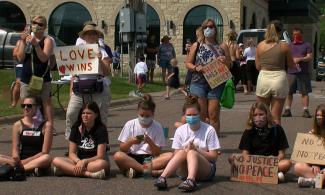 Body paragraph
On June 27th, Sophia Rashid, a Muslim woman, took her four-year old daughter out to eat in Stillwater, a town on the St Croix River about 20 miles east of St. Paul. Stillwater has two main industries: bars & entertainment - and the Stillwater state prison. The prison, where human beings are forced to work at twelve cents an hour and face punishing medical neglect during the pandemic, is a breeding ground for both multi-racial solidarity against state-sponsored slavery - and segregation and white supremacy. That night downtown Stillwater would be made unsafe by bikers with ties to a white supremacist prison gang - sparking a strong reaction from Stillwater workers and residents.
 As Sophia and her daughter enjoyed their meal, she noticed several men motioning at them and saying things like "we're watching you." The men wore vests declaring themselves to be members of the Aryan Cowboy Brotherhood, a white supremacist prison gang and motorcycle club active mostly in Minnesota with some presence in Ohio and Kentucky. There are conflicting reports, but some indicate that the ACB was in town to meet one of their members being released from the prison.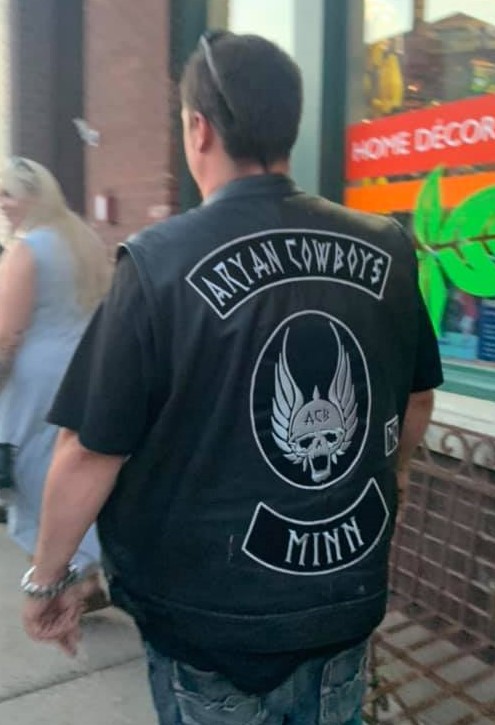 As Sophia describes in her facebook post that went viral later that day, the servers at the restaurant immediately offered to defend Sophia and walk her to her car. As Sophia, her daughter, and the servers made their way to her car, a group of nazi bikers crossed the street towards them. The racists were soon backed up by their buddies, with multiple small groups of bikers in the area intimidating the women and making threatening comments. The servers brought Sophia to the Hotel Lora, where staff said they would protect her.
The nazi harassment brought a strong reaction from anti-racists in the Stillwater community. Local resident Marita Metcalf and the EastMetro Unites Against Racism in Honor of George Floyd facebook group organized a rally against racism downtown on July 4th. The Stillwater for Racial Justice group, formed in June, also organized a rapid response network - a communications loop allowing people to mobilize and defend the community whenever racist harassment is reported. The day after the anti-racist rally, the still-forming network assembled to back-up a local shopkeeper and worker, facing harassment from racists who were upset that the owner had spoken at the rally and put a Black Lives Matter sign in the store window.
Stillwater students have also been galvanized to act, with 28 Black students that attended or graduated from Stillwater Area High School writing a set of demands for changes in the school district.
When members of Stillwater for Racial Justice reached out to the Workers Defense Alliance, we offered advice and an info-sheet for service workers to recognize fascist groups who might come to their workplace. The WDA and the Twin Cities Solidarity Network are also working with bar and service workers, union members, and anti-racists in the greater Twin Cities Metro area to create a training for service staff to identify white supremacists and take action to keep their workplaces, customers, and communities safe from fascist threats and violence.  If you are interested in getting the info sheet or contributing to the training, please contact the Twin Cities Solidarity Network: tcsolnet@protonmail.com.