Image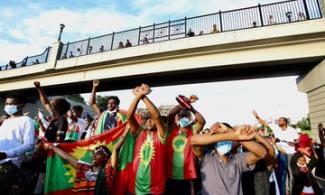 Body paragraph
Hundreds of members of Minnesota's Oromo community took over I-94 on July 1st, and 1,500 took 35W ten days later, in powerful protests against the assassination of Hachalu Hundessa in Ethiopia. Hundessa was an iconic Oromo musician, activist, and former political prisoner closely associated with the struggle for democracy in Ethiopia and for the rights and freedom of the Oromo people.
The Oromo people are the largest ethnicity in Ethiopia and an oppressed nationality under the Ethiopian State. The Oromo people have had their language and religions banned by the Ethiopian State and faced ruthless military assaults aimed at extinguishing their movement for self-determination. There are approximately 30,000 Oromo people in the Twin Cities, making it one of the most important communities of the diaspora.
The protests here against the assassination of Hachalu Hundessa took place only a few weeks after the murder of George Floyd and the subsequent Uprising across the Twin Cities. Many Oromo people have been involved in the struggles against police brutality and for Black Lives, and while Oromos have been organizing here for decades, the Uprising was an undeniable catalyst for these actions.
As an Oromo community organizer from Saint Paul told the Sahan Journal: "With the George Floyd protest, I saw that anything is possible. Oromo liberation is Black liberation. Black liberation is Oromo liberation."