Image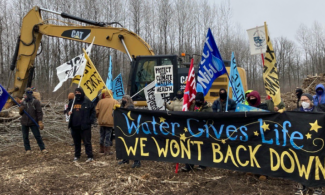 Body paragraph
Jessica Garraway - Educator - Environmental Justice Work
Ned Flowers - Barista & Former Metalworker - Line 3 Resistance Logistics & Mutual Aid
Plotnikov - Carpenter - Solidarity Network
What does Line 3 pipeline resistance have to do with class struggle? Everything. With the harms that this project inflicts on land and water, treaty rights, workers, women, and rural communities, it's clear that we are being sold out for Enbridge profits. Rural workers and Indigenous people have to take our future into our own hands.
This pipeline violates the treaty rights of the Native people of Minnesota, crossing the 1855, 1854, and 1842 treaty areas that cover most of the northern half of the state. The Stopline3.org website calls this "modern-day colonialism for the purposes of resource extraction and corporate profit." The land and water indigenous people depend on for fishing and wild rice are threatened by this project, which is a direct violation of the rights enshrined in the treaties. 
Line 3 would cross more than 800 of the lakes and rivers that provide clean drinking water to Minnesotans and those downstream of us, including two crossings of the Mississippi River. As we have seen in Flint, Michigan, clean drinking water is not to be taken for granted. The project is also poised to set off a carbon bomb that will impact the lives of billions of people. Line 3 is intended to carry up to 915,000 barrels per day of tar sands crude oil from Canada. At $7.5 billion, the project is the largest in Enbridge's history. Especially with projects like Keystone XL on the ropes, Enbridge's Line 3 is that much more pivotal to the continuation of tar sands extraction. If it gets built, it is game over for the climate. If we stop it, it is game over for the tar sands.
Politicians in both parties are in the pocket of Enbridge, and would have us believe that the tar sands in Canada are crucial for working people here. They have no care for rural communities, the Indigenous people whose land they are violating or the millions of people that depend on the drinking water this project could contaminate. The boom and  bust cycle promises jobs that will never materialize. As the Minneapolis Federation of Teachers highlighted in their statement in support of the pipeline struggle,
"Line 3 will provide nowhere near the number of permanent union jobs the the project's promoters promise they will (Enbridge itself estimates the number at around 25; its marketing and lobbying campaigns are designed to obscure this fact) and the Minnesota Department of Commerce has indicated that more local and long term jobs would actually be created by decommissioning the existing pipeline."
The Line 3 project, by Enbridge's own admission, will bring around two dozen permanent union jobs to Minnesota. The thousands of construction jobs they dangled in front of the trade unions like LIUNA and the Operating Engineers are temporary and mostly being filled by workers from out of state. Once again, the industry makes a "Hardhats vs Indians and Hippies" narrative, trying to pit white and Native workers against each other, promising temporary jobs to permanently harm the land and treaty rights. 
But did we mention the pandemic? Healthcare workers in Aitkin county wrote an open letter to the Walz administration and the Minnesota Department of Health in November demanding Line 3 construction be delayed. Between one and four thousand out-of-state contract workers roaming the countryside spreading the virus when their ICU capacity is already maxed out? Nurses say no thank you. It is clear that the construction industry has not taken necessary health and safety measures for COVID. According to a study of 730,000 COVID tests conducted by research firm Curative this summer, construction workers have the highest rate of positive tests, with 5.7% of asymptomatic workers and 10.1% of those with symptoms testing positive. The pipeline "man camps" housing workers threaten to be major vectors of infection. 
That is not the only lethal danger that man camps bring. It it has been established by independent studies by Indigenous scholars and researchers such as the Urban Indian Health Institute that cases of human trafficking, sexual assault, rape, and murder jump by over a fifth (22%) in areas hosting man camps. These statistics are already disproportionately high among the Indigenous populations that these colonial resource extraction projects target. One in three Indigenous women in the United States are raped in their lifetime, many before the age of fifteen; 85% of these rapes are committed by non-Indigenous offenders, many of them the very workers that Enbridge exploits. This hard truth must be said plainly and tackled head on if we are going to build the robust intersectional movement we need to address the environmental crisis. White workers must be challenged to embrace a working class solidarity that includes the entire working class. That means a refusal to participate in sex trafficking that targets Native women. Enbridge revels in these divisions in the working class. They have everything to gain while we have everything to lose if we stay divided. 
The industry's casual disregard for safety has also already resulted in a fatality. Jorge Villafuerte III, a union pipefitter and father of nine children, was killed by a telehandler forklift in a Line 3 construction yard in Aitkin County. Jorge was working for Precision Pipeline out of Eau Claire, WI. He was the fourth worker to die on a Precision Pipeline job since 2010. Of the four deaths, only the fatal crushing of a worker in 2010 resulted in any OSHA fine--settled for only $14,000. Enbridge is so desperate to barrel ahead with the project at any human cost that work resumed at the site of Jorge's death within hours. When two Enbridge workers were killed in an explosion and fire at the Clearbrook terminal in 2007, the company fought the bereaved families' workers comp claims for years in court. Just as this company throws away our communities, it throws away the lives of workers.
We can't let Enbridge and other companies use our communities for a quick buck and dictate our futures for us. Minnesota's own Department of Commerce has argued that more local and long term jobs would be created by decommissioning the existing Line 3 and repairing the land than by expanding the pipeline. Instead of continuing to support fossil fuel, we can fight for jobs that create infrastructure we actually need, such as mass public transit, affordable housing, and clean water. Our energy system needs to be overhauled. Millions of houses and apartments need to be repaired, weatherized, and improved. Infrastructure everywhere is crumbling, and curing our fossil fuel addiction means both massive expansion of public transit and changing the face of cities built around the car.  All of these projects would expand work in strongly unionized construction sectors. But it is not enough to lobby for jobs where we already have union density. The green energy industry is growing, and we workers need to pull our unions to organize it--or we will see non-union contractors take that work and further drive down standards across the industry. Instead of waiting for our unions, we rank and file need to build a revitalized union movement--one that not only defends our safety and livelihoods, but that gives us the strength to make the most revolutionary demand: our own control over our work, to build the world we want to live in.
All of us need to unite behind the Indigenous struggle, as Native people fight to save the land and water we all live on. Against corporate exploitation of the land, we support the sovereignty of the Native nations and learn from their stewardship. All of our liberation and survival is bound up in the fight of Indigenous fellow workers, whose liberation struggle against colonialism strikes at the heart of capitalism.
The fight against Line 3 and by extension the entire tar sands industry is part of the fight for Native sovereignty and worker power. What would a world with worker and community self-management, and without oil pipelines, look like? That world, which already is growing in our hearts, can only be brought about through fighting alongside each other. Let's get to work.
Ready to join the fight to stop Line 3? There is a wide assortment of radical people and projects devoting themselves to different aspects of the struggle. Inquire with the Workers Defense Alliance to find out more!
Interested in what a distributed direct action strategy against Line 3 could look like? Anonymous comrades from the Killer Bee Syndicate made a zine thinking through some of this in 2019. This "Swarm" zine and other articles related to Indigenous resistance to Line 3 and the MMIWR epidemic can be found at antidotezine[dot]com.