Image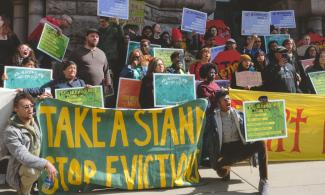 Body paragraph
Plotnikov - Carpenter - Solidarity Network
With the economy spiraling in the pandemic, we face a looming evictions crisis, with not enough aid for the thousands already houseless. Somewhere between 20-50% of Minnesota households are facing potential eviction from missed rents - held back only by emergency protections that Walz has kept in place, for now. 
Housing organization Inquilinxs Unidxs por Justicia has been calling for rent forgiveness throughout the pandemic, and to stop evictions. With their experience fighting alongside tenants under slumlord Steve Frenz buy out their apartments from him, Inquilinxs has been setting an example of organizing that other tenants have looked to. 
Tenants have organized the Whisslhe Tenant Council in Whittier, Stevens Square, and Lowry Hill East. Formed by renter committees from Hornig, Mint, and Kleinman for mutual support, Whisslhe soon helped form more company committees. They aim to back up people who have problems with their landlords, and help tenants learn organizing and direct action. Whisslhe is working on tenant organizing trainings.
Emmett D, a Kleinman tenant, says that Whisslhe grew out of the Whittier Copwatch. "We walked and talked about how much police violence directed at the working class and communities of color is driven by developers, trying to clear the way for gentrification", he said. "Then, there's the harassment directed at the unhoused- and evictions are police violence. So we decided we needed to organize at the root." 
That connection between housing and anti-racism has informed Whisslhe's work. Their latest mass meeting was about a lawsuit landlords are pushing against the city to repeal tenant screening protections passed last year. These protections stop landlords from looking up evictions over three years old, checking credit scores, or looking up misdemeanor over three years ago or felonies over seven years ago. These protections were a victory for renters who've struggled with poverty or a record- especially former prisoners. Whisslhe wants the lawsuit dropped.
Houseless people have also led the fight. As Unicorn Riot reported on November 11, residents at the Extended Stay Hotel in Bloomington have formed a union. The hotel was slated to be bought by Hennepin County with CARES Act funds, but the county backpedaled on the plan. Instead, the Hennepin County Board put money towards renovating buildings at Fort Snelling into 191 multi-room apartments for $908,000 a unit, with the work going to Plymouth-based contractor Dominium.
In response, community organizer Sam Pree-Stinson launched a sustained protest outside of County Commissioner Marion Greene's house on Tuesday November 3rd, attracting the support, protection, and aid of organizers across housing and racial justice networks. Pree says the $171.9 deal to Dominium could provide vitally needed housing, and resources for groups like ZACAH, a charity in the Muslim community that is suing the city to stop the MPD from evicting homeless camps from the parks. 
Whisslhe can be reached at whisslhetenantscouncil@gmail.com. Inquilinxs Unidxs can be found at /www.inquilinxsunidxs.org.