Image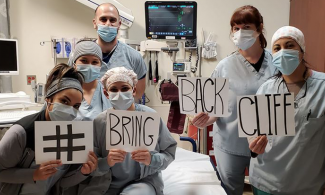 Body paragraph
TBerrell - Frontliners United
During the opening months of the COVID 19 pandemic, frontline healthcare workers at St Paul's United Hospital (part of the Allina Health system) took measures to protect themselves, their families and the public they serve. These efforts were vehemently opposed by management. Among other positions they took, management insisted workers use their personal scrubs instead of the scrubs readily available at the hospital and used by doctors, physician assistants and some nurses.
United nurses dealing with Covid-positive and suspected-Covid-positive patients had to bring the scrubs they worked in all day home to be washed, posing a potential source of infection to their families. Dozens of nurses refused to do this, and their stand drove media attention to the conflict. Management responded with disciplinary measures, violation of union rights, and intimidation of the frontline workforce. Cliff Willmeng, a union steward, husband, father of two, and nurse of 13 years was fired during these efforts for workplace and patient safety. The firing happened despite the fact that he has had zero patient care incidents or attendance issues over the course of his nursing career. He was fired for violating uniform policy.
The termination was also accompanied by a charge to the MN Board of Nursing threatening Willmeng's nursing license and ability to support his family. In the 8 months since his dismissal, with more than a dozen years' experience and mid-pandemic nursing shortages, Willmeng has been unable to gain an interview for the more than 20 positions he has applied for in the Twin Cities metro. It is clear that Allina is engaged in workplace retaliation to ruin Willmeng's professional prospects and send a message that those who fight for safer conditions will be severely punished.
Although Minnesota Nurses Association (MNA) leadership declined requests to launch a public campaign on his behalf, a grievance was filed and will be heard on January 7-8, 2021.
Willmeng himself has filed a state whistleblower lawsuit against Allina which will be heard August 2021.  Prior to his termination in May 2020, Willmeng was running for a seat on the MNA executive board. He continued those campaign efforts even though he was no longer employed as an RN and his reinstatement to his position via legal processes was uncertain. In a stunning show of member support for the actions of Willmeng and his coworkers at United Hospital, he won that board seat in November. This show of support from MNA membership, the support of the general public, and the local media coverage pointed to an opportunity for a more public fight with Allina. 
In late November, a group of local and national supporters began a campaign to publicize Allina's vindictive retaliation and to demand reinstatement of Willmeng to the United Hospital ER. The Committee to #BringBackCliff and #DefendFrontlineWorkers is composed of a core group of frontline workers and labor activists with the support of We Do The Work, a worker-run media group. The specific goals of the campaign are:
Build Pressure on Allina Health

Build a network of frontline workers for mutual defense

Show support for Cliff as a steward and RN

Demonstrate what a frontliner campaign can look like

Encourage MNA RNs to speak out
In the first week of the campaign, the Committee launched a petition demanding Willmeng's reinstatement and an end to all workplace intimidation and retaliation. The preliminary goal was to collect 1000 signatures to send to Allina ahead of the January 7 arbitration date and to create a network of contacts to activate in direct action. The launch coincided with a publication in MedPage Today that told Willmeng's story in detail and that was widely circulated nationally (in fact it was just named as the publication's most popular article in 2020).
As a result, within 7 days of launching the petition, 2,000 signatures were collected,exponentially increasing the number of supporters willing to take on Allina and connecting the campaign to countless similar stories from across the county. The majority of petition signers are frontline workers and over 30% are members of unions. Calls to Action in the petition resulted in direct communications to Allina executives and social media traffic to all Allina's platforms throughout the month of December. Willmeng has been invited to multiple podcasts to tell his story. Local unions have promoted the petition and campaign over social media and in some cases even passed resolutions supporting the Bring Back Cliff campaign. Allina has indicated they are aware of the campaign and the support from MNA membership has grown over the short campaign period.
In the final week before the arbitration hearing, the campaign will continue its social media presence and continue circulating the petition. A judgment in the arbitration may take up to 30 days. During that time the campaign will remain active, keep supporters informed, and shift the focus to building opportunities for solidarity among the growing network of frontline workers and supporters.
Contact the Committee to #BringBackCliff: Defendfrontliners@gmail.com,
Learn more about the campaign: frontlinersunited.net
Ways to Help:
1. Sign and share the petition to reinstate Cliff
2. Contact Allina management and demand Cliff's reinstatement:
-CEO Penny Wheeler
      Email: Penny.Wheeler@allina.com 
           Phone: (612) 333-4822
         Twitter: @PennyWheelerMD
- United Hospital President Sara Criger
        Email: Sara.Criger@allina.com 
         Twitter: @UnitedHospital
-Allina Vice President of HR Jim McGlade:
              Email: Jim.McGlade@allina.com
4. Pass the sample union/organizational resolution
5. Send letters of support to 
- Minnesota Nurses Association, board@mnnurses.org